Dearest Brothers and Sisters in Christ,
As we head back into the fall schedule, so many of us are involved in activities that center around the academic year. Maybe you're even one of the teachers, instructors or students. This morning I read this passage while praying:
Who has understood the mind of the LORD, or instructed him as his counselor? Whom did the LORD consult to enlighten him, and who taught him the right way? Who was it that taught him knowledge or showed him the path of understanding? – Isaiah 40:13-14
Some years ago, I wrote a prayer in the margin of my Bible in response to this Scripture: LORD, instruct me. Enlighten me. Teach me the right way. Teach me knowledge. Show me the path of understanding. This is still my prayer for myself, as a teacher/speaker of God's Word and as a counselor to many. I need God's wisdom, God's light, God's knowledge, God's understanding for everything I am and everything I do – every moment of my life.I pray that each of you, as a follower of  Jesus, will make it your own prayer, too. Our God, who is both sovereign over us and intimate with us, promises to answer this prayer!
I will instruct you and teach you in the way you should go; I will counsel you with my loving eye upon you. – Psalm 32:8
WITH THANKSGIVING and A BIT of SADNESS!
It is with deep thanksgiving for Dave Ridder, and a bit of sadness, that we announce Dave's resignation from TBG's Board of Directors. Through Dave, God has poured out to me, personally, and into the ministry great wisdom, understanding, and encouragement right from TBG's birth! As Dave continues to serve God faithfully as Senior Pastor at Bayside Chapel, and in countless other ways, he promises to continue to connect me with speaking opportunities and to always be an enthusiastic friend of the ministry! What more could we ask? Besides, I have Dave on speed dial!
Grace Moments – Travel Version
, with all the same great daily devotionals as the original, is now available in a lighter weight, travel-easy edition, without the journal pages. You spoke. We responded! Travel lighter and more deeply with God – all at the same time!

WHAT'S NEXT?   
Thanks to Curtis Peters, our creative, tech-savvy specialist, Grace Moments – the App! is being developed, and will soon be available to touch your heart at a touch of your finger!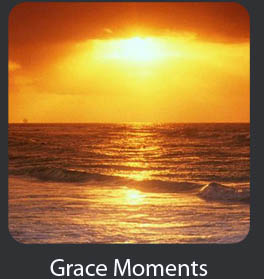 October 7-12 – Sylane Mack has been invited to Nantucket, MA to teach multiple sessions of "Standing Strong with Open Arms" for the launching of a new retreat center at High Point. This extended retreat (6 days), according to Darcy Creech, the owner-steward of High Point, is "the springboard event" God put on her heart to launch High Point "as a year-round haven for relaxing, renewing, and rejoicing in our Lord!" Darcy is excited to see what more God has planned for this place!
Darcy and Sylane were first connected because of their mutual heart for and service alongside Compassion International – with whom Darcy is committed to build one new well each year in some of the world's most impoverished lands.
Darcy, like Sylane, is also sensitive to the dryness of, and the battle for, our souls. Both women have been been called to make a way for our Lord Jesus to be more fully known and for Christ's love and power to be more fully lived out in the lives of His followers. This "springboard event" at High Point, with specifically invited guests, and Sylane's teachings of "Standing Strong with Open Arms", is focused on following God's call in exactly these ways! Please keep these days, and all who will attend, in prayer for God to be more fully known, loved, followed and glorified as we embrace God's unfailing love for us and are, thereby, strengthened to stand strong with open arms offering Christ's love to all those around us – even to those who don't love us! Just like Jesus does! Oh! May the Body of Christ live and love like the Body of Christ! Amen and Amen!
HOW YOU CAN HELP TBG SHARE the LOVE and WISDOM of CHRIST!
PRAY!
– For our TBG Counselors and every individual, couple, and family with whom we minister, so that God's Word and Spirit, God's love, grace and truth will break through with the fullness of Christ's healing, hope and continually deepening transformation!
– For our Administrative Staff and TBG Board Members and for all of our families.
– For God to open many opportunities for Sylane Mack to make known God's unfailing love and transforming power to many more people – locally, nationally and internationally!
SHARE YOUR FINANCIAL SUPPORT!
– Become a
Partner in Grace
with us today! Join us as
a regular monthly PinG!
– God uses your financial generosity so that we may:- offer our Counseling Ministry in the Delaware Valley/NJ/PA area to many who could not otherwise afford such professional, Christ-centered counsel.- provide Bibles, and our own written and recorded materials, to many we counsel, minister to at conferences, and to others who are in rehabilitation centers or prisons.- cover the costs of sending Sylane Mack out as our Conference Speaker and Christ's Ambassador, wherever God opens the door for her!
SHARE the LOVE and WISDOM of CHRIST by… 
Connect with Sylane via Facebook! 

Remember to join us on the 10th day of each month as we passionately PRAY for God's life-giving, life-freeing, transforming work to be done in the lives of all with whom we minister – at conferences, counseling sessions, on corners and in coffee shops!
With much love and many prayers through our Lord Jesus Christ –
Sylane Mack – on behalf of the entire Board and Staff of Transformed by Grace!