Dearest Brothers and Sisters in Christ,
We're well into 2015 now! We pray that each new day of this new year will make all of us more aware of our God who – no matter what happens or changes in our lives – never changes! Our God is always the same faithful and sovereign God. Always present with us. Always loving us. Always wanting us to trust Him completely and follow Him fully. Always offering us a life filled with His eternal hope and purpose as we do.
…the LORD delights in those who fear him, who put their hope in His unfailing love.  Psalm 147:11
You will receive power when the Holy Spirit comes on you; and you will be my witnesses in Jerusalem, and in all Judea and Samaria, and to the ends of the earth."  Acts 1:8
We thank God for each of YOU who has partnered with
Transformed by Grace
in any way! Your prayers, financial support and encouragement have helped us bring God's eternal hope in Christ's unfailing love and transforming grace to many people – locally, nationally and internationally – in deeply powerful and purpose-filled ways!
GOD'S HOPE AND PURPOSES ARE MADE KNOWN TANGIBLY:
Through the Counseling Ministry of TBG as our professional, experienced staff members meet with individuals (from young children to octogenarians), couples, families, ministry leaders, struggling believers and those who are not-yet-believers. Our hope and purpose is to always offer wise and godly counsel, based on God's Word of grace and truth, so that those we meet with will come to know, trust and allow the healing power and transforming grace of Christ to renew their minds, restore their lives and rebuild their relationships in amazing and continuous ways!

Through

Grace Moments

, the daily devotional book grounded in God's Word with reflections written by Sylane Mack. Many people have contacted us via emails, texts, calls, Facebook messages, and even face-to-face encounters to share how God has spoken to their hearts as they've read, reflected on, and

believed

these messages…and how God has challenged them

to do something about it!

Pretty sure that was exactly God's eternal hope and purpose for this book!

Grace Moments

can be ordered via

www.createspace.com/5006540

(our preferred site), at Amazon or via Kindle. It's a great resource for individual devotionals and for group studies!

Through

Convinced!

– the story of Sylane Mack's life set free from the brokenness caused by abuse to a life transformed by the love of Jesus.

Convinced!

declares the hope, purpose, healing and freedom that God alone is able to bring to any and all of us through His unfailing love and the power of His forgiveness! No matter what!

Convinced!

continues to powerfully shine the light and love, grace and truth of our Lord Jesus Christ into the darkness of this world – one reader at a time! You can order

Convinced

! via

www.createspace.com/3404109

, at Amazon or via kindle.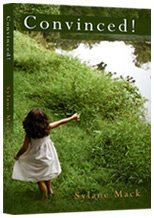 Through the Conference Speaking Ministry, as Sylane Mack is invited to speak at churches, small groups, professional seminars, special events, retreats, rehabilitation centers, correctional facilities, colleges, seminaries, major ministry headquarters and in private homes, it is God who brings His Word to the forefront, and it is God's Spirit who brings His encouragement and challenge, eternal hope and purpose to each of these venues to transform the lives of all who would receive His message of transforming grace and truth into their lives.
February 17 & 18
– Sylane Mack will minister once again at
Mathom House, the Bucks County
Rehabilitation and Treatment Facility for adolescent sexual perpetrators. TBG and Mathom House have had a strong and continuous connection since 2003, which has allowed God's transforming grace and truth, hope and purpose to be clearly spoken into the lives of Mathom's clientele, their families and to Mathom's amazing therapeutic staff. On Feb 17 & 18, Sylane will speak in two different therapeutic group sessions with the young men and some of Mathom's staff members. In the evening of Feb 17, Sylane will also speak at the Parents and Family Group Meeting.
Please pray for God
to continue to bless this amazing relationship between Mathom and TBG so that many, many lives will be saved, renewed and transformed by the love and mercy of Jesus Christ!
March 9-16 in Aberdeen, Scotland – Women's Conference
for the
Gerrard Street Baptist Church of Aberdeen
the weekend of March 13-15 – Sylane Mack will present
Harvest of Hearts
. Invited by
Emma Longhurst
, a dear sister in Christ who served in Philadelphia for 3 1/2 years, Sylane will speak at this conference held at Emma's home church in Aberdeen.
Jean Heiss
, a true TBG ministry partner with a mindset open to adventure and a heart always ready to serve our Lord Jesus, will be ministering with Sylane throughout their time in Scotland.
Please pray for God
to lead everything that is said and done as Jean and Sylane prepare for this trip and, then, join with Emma and the leadership team in Scotland to serve God together in bringing this conference of God's eternal hope and purpose to the women of Aberdeen! May countless lives be transformed!
For all that God has done, is doing and will continue to do  through the ministry of Transformed by Grace, we ask for your support  in prayer and in the practical, financial realm! Join us as our Partner in Grace! Thank you!
Connect with Sylane via Facebook! 

Order your copy of Convinced! and Grace Moments.
Remember to join us on the 10th day of each month as we passionately PRAY for God's life-giving, life-freeing, transforming work to be done in the lives of all with whom we minister – at conferences, counseling sessions, on corners and in coffee shops!
May you each renewed with the love of Christ and His eternal hope and purpose!
With much love and many prayers through our Lord Jesus Christ
– on behalf of the Board and Staff of Transformed by Grace!
Sylane Mack